Touch interactivity has come a long way in the past few years. Touch accuracy and speed are continually advancing, multi-touch capabilities make for a much richer interaction, and stunning 4K visual content makes it possible to engage people like never before. But as we wrap up the year and turn our attention to 2017, I believe in the coming year we'll see a meaningful shift in how people interact with digital kiosks and signage.
The breakthrough I'm alluding to is the ability of interactive screens to register varying amounts of pressure and respond accordingly, thereby introducing varying levels of user feedback traditionally missing from "digital" (i.e. touch or no-touch) interfaces. In the same way double-clicking on a mouse or trackpad yields a result different from a single click, we will begin seeing similar innovation on touch-interactive screens. As with many innovations in the commercial applications, the impetus has come from the public demanding the same level of user experience as they enjoy from their smartphones and tablets.
The challenge here is that public facing touch screens – ATMs, kiosks, slot machines and interactive video walls – must be extremely durable to withstand public use. For that reason alone, creating a mechanism that measures pressure is challenging, given the thickness and rigidity of the displays used in those installations. But there is a solution: Zytronic's approach is based on a measurement of the surface area of an applied touch, which changes the measured capacitive signal levels at the relative touch location on the sensor. This eliminates the need for a piezo-electric or other layers on the glass to measure applied force or pressure.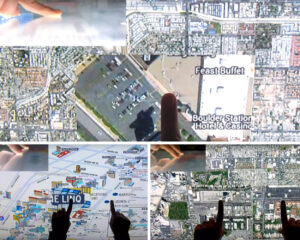 This technology can be applied numerous ways. For example, to assist visually impaired bank patrons, ATMs can be outfitted such that a customer's fingertip enlarges the number as it's pressed, while applying further pressure completes selection of that number. Or in the case of a wayfinding kiosk map, the viewer can control how quickly to zoom in on a particular area by how much pressure they apply to the glass. Practically speaking, the applications are endless.
Time will tell how widely technologies like these are adopted, however it's quite promising to see how touch interactivity is evolving, and how that evolution is ushering in a new generation of interactive devices that will enrich user interaction like we've never seen before.