It's been another busy year at Zytronic, with exciting new product developments released and in the pipeline, further international expansion, interesting new case studies and recognition of our outstanding quality and environmental management systems.
Increasing our global presence
The year was off to a positive start, with a landmark global distribution agreement signed with Future Electronics, a leading distributor of electronic components worldwide.
After having worked together successfully on several projects in previous years, the formal agreement extends the partnership between the two companies, offering customers the option of purchasing fully integrated, customised touch displays  and other sub-assemblies – with Zytronic's projected capacitive touch technology at their core, combined with Future's worldwide resources and supply chain management expertise.
http://zytronic.co.uk/news/zytronic-future-sign-global-distribution-agreement/
Success for Zytronic touchscreens challenging conditions
Also in January we were pleased to announce the completion of a successful project in Saudi Arabia, with Slovenian system integrator, Lastinski. This unusual application of our technology involved installing outdoor touchscreen enabled phone charging kiosks along the 280mile long pilgrim route from Mecca to Medina.
With the mobile phone charging terminals  exposed to Saudi Arabian summer temperatures exceeding 50°C, it was a challenge that our rugged ZyBRID® touch sensors comfortably met!
http://zytronic.co.uk/news/zytronic-touch-sensors-enable-phone-charging-stations-for-mecca-pilgrims/
Exhibition Season
In February we had yet another successful showing at the leading European digital signage event, Integrated Systems Europe (ISE) show in Amsterdam. Demonstrating our 'force sensing' touch technology for the first time in Europe, visitors were wowed by Zytronic's innovation and intrigued by the possibilities offered with this new way of interacting with a touch screen.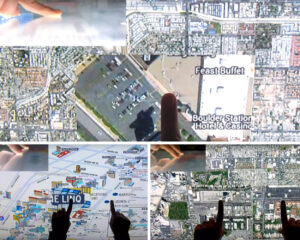 http://zytronic.co.uk/news/zytronic-brings-force-sensing-touch-technology-to-large-screens-at-ise/
We had a very busy month in March, with a our second participation at the Digital Signage Expo (DSE) in Las Vegas, led by Robert (Bob) Spencer, our recently appointed Director of Sales for the Americas. Based in Austin, Texas. Bob has worked in the projected capacitive touch screen industry for almost 20 years, and brings with him a wealth of knowledge and market experience.
Growth in the USA
Further cementing Zytronic's growing presence in the North America, we also appointed two new distributors, Apera in Eastern Canada and Electronic Marketing Associates (EMA) in the South East USA
http://zytronic.co.uk/news/zytronic-continues-north-american-expansion/
Quality and environmental management
We announced in April that we had completed the transition and accreditation of its company quality and environmental management systems to the latest ISO9001:2015 and ISO14001:2015 standards, more than 18 months ahead of the deadline for compliance!
CEO, Mark Cambridge, commented at the time, "The new standards are very much in alignment with Zytronic culture, because they ensure that the company's management systems are fully integrated with its business strategies. To achieve the transition, we were able to demonstrate the key changes of Zytronic's leadership commitment to the standards and that our processes reflect the aspects, impacts and risks we see as a business as well as the context in which we operate. Achieving the transition to the new standards proves to our customers, employees and other stakeholders that our management and environmental systems continue to be fit for purpose and are fully conformant to the latest best practice."
http://zytronic.co.uk/news/zytronic-achieves-iso-compliance/
Touch sensors for any weather!
In May we yet again proved our technology was durable enough to survive the harshest of conditions, by announcing that we had supplied nearly 700 ZyPOS® touch sensors for self-service ticket machines on the Moscow Metro and at Moscow bus stops. The interactive terminals are designed to operate reliably 24-7, all year round in a range of indoor and outdoor locations, and are subject to the extremes of Russian weather where temperatures can range from -30 to +40 degrees C. Using our touch technology, customers wearing heavy winter gloves can even use the machines to purchase tickets.
http://zytronic.co.uk/news/zytronic-equip-moscow-ticket-machines/
Some of the most innovative uses for touch screens
June brought the release of two novel case studies, the first with Italian self-service vending machine manufacturer, Amtek, who utilised Zytronic's projected capacitive touch sensor, to double the capacity in its range of condom vending machines, and improve user experience.
http://zytronic.co.uk/news/zytronic-touch-sensors-double-vending-machine-capacity/
The second case study was one of Zytronic's most widely read stories of the year, when we announced that our 84" multi touch ZyBrid® sensors were being used in the prestigious National Air and Space Museum of the Smithsonian Institution (NASM) in Washington DC. Our US customer, Ideum designed and installed the colossal multi user touch table into the museum which has close to 7m visitors annually, making it the fifth-most-visited museum in the world. In conjunction with our multitouch technology, Ideum's specially developed software enables visitors to design, customise and launch space station modules of their own creation.
http://zytronic.co.uk/news/zytronic-powers-exhibit-the-smithsonian/
Coming in a close second for most popular Zytronic case study of the year was the July announcement that our touch sensors had been specified by French manufacturer, Adial, in their PIZZADOOR self-service vending machine, selling quality pizzas to the notoriously discerning French consumers. Looking for an interactive "smartphone like experience" Adial wanted to improve customer experience, while maintaining a durable self-service interface that could withstand the wear and tear of daily usage in outdoor locations.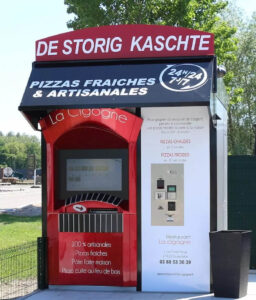 http://zytronic.co.uk/news/zytronic-serves-pizza-to-french-consumers/
The global team grows again
In September made the announcement that we had grown again with the appointment of Sarah Larter as a new internal sales and customer service assistant to support customers and partners in the Asian region. We also grew our presence in Japan with the appointment of Mr Masami Saito to the new position of Business Development Manager Japan, together with two new distributors in this important market for our products: KTL Corp. and Takachiho Koheki Co. Ltd. With the appointment of Mr Saito, plus KTL and Takachiho as new sales channel partners we will be able better serve our Japanese customers.
http://zytronic.co.uk/news/zytronic-announces-japanese-expansion/
Adding touch to smart cities
Later that month we announced our participation in the initial roll-out of Citybeacon smart city platforms in Eindhoven, featuring Zytronic's ZYFILM® interactive foil. The innovative interactive kiosks are designed to connect the physical and digital worlds, featuring a 32" touch display, enabling easy access to local information, and directions. The system also incorporates NFC, RFID, and Bluetooth based payment and mobile hand-off technologies, so citizens and vistors can take advantage of local services such as parking and carry information to and from the kiosk.
http://zytronic.co.uk/news/citybeacon-selects-zytronic-to-create-smart-city/
Casinos and celeb spotting
In October we were thrilled to show a new concept unit at the Global Gaming expo, G2E, in Las Vegas. Featuring several never-seen-before innovations such as a curved 49" touchscreen with ultra-narrow borders, an integrated NFC reader and Qi-standard wireless phone charger together with our new patent pending transparent touch sensing dial technology. Once again, we demonstrated to our slot machine and electronic table game clients how we're pushing the boundaries of touch technology.
http://zytronic.co.uk/news/zytronic-unleash-full-creativity-at-g2e/
We also met an bone fide rock god at the show, Kiss's Gene Simmons! We're so Rock 'n' Roll!
All in all, we've had a very successful year, and we can't wait to do it all again in 2018.
Merry Christmas folks, and see you in the New Year!