Zytronic, a leader in advanced, rugged Projected Capacitive Technology (PCT™ and MPCT™) touch sensors today announced the addition of force sensing to its touch sensors allowing ATMs, kiosks, game terminals and interactive video walls to differentiate between a soft and hard touch.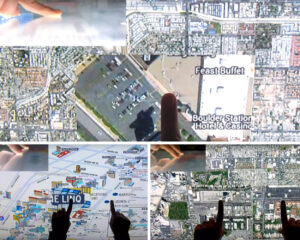 According to Ian Crosby, Sales and Marketing Director of Zytronic, "Force or pressure sensing is a whole new way of interacting with a touch screen, and Zytronic is leading the industry in making it available to the retail, commercial and industrial markets. It literally and figuratively adds a new dimension to the touch experience, giving application developers a fantastic opportunity to innovate. It is particularly powerful when used in combination with Zytronic multi touch technology, exceeding what is possible on all but the most advanced tablets and smartphones today."
Force or pressure sensing is becoming available on smartphones and tablets. Zytronic is a pioneer in bringing it to financial, retail, gaming, industrial and other commercial touch screen applications. Zytronic's approach is based on a measurement of the surface area of an applied touch, which changes the measured capacitive signal levels at the relative touch location on the sensor. This eliminates the need for a piezo-electric or other layers on the glass to measure applied force or pressure.
He continued, "In a way finder or web browsing application, a soft touch can open a preview window – then pressing harder fully opens the window. On a kiosk, a soft touch can bring up a menu of options and increasing the applied force makes a selection. There is a great opportunity to make kiosks and ATMs more accessible to partially sighted users. An initial soft touch can trigger an audio confirmation of the selection, then increasing the force activates the choice."
Zytronic has created two demo apps, which can be viewed on YouTube. A video showing how force sensing technology can help partially sighted users interact with a keyboard or PIN pad on a touchscreen enabled ATM or kiosk is here: :
[embed]https://www.youtube.com/watch?v=2mxfMXA0RCQ[/embed]
A further video showing how force sensing can transform a wayfinder is here:
[embed]https://www.youtube.com/watch?v=liq5Fz13Od0[/embed]
"Force sensing can open new applications too," Ian Crosby concluded. "Developers can create drawing and writing applications that respond to applied force without an active stylus. There is huge potential for innovative music applications, as well as for gaming and other smart user interfaces."
The Zytronic force sensing feature is offered in a custom firmware release for its ZXY150, ZXY200 and ZXY300 controllers. The feature doesn't entail any hardware modification, so existing customers could retrofit force sensing by refreshing the firmware and adapting their application to respond appropriately. Zytronic is providing customers using the feature with a new version of the ZyConfig software that supports the feature, together with an output protocol note on how an app developer can access the force sensing data from our controller and use it in their app development.